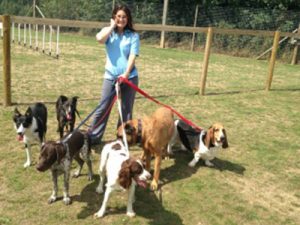 Turner & Pooch offer a fantastic dog walking service always with your dogs best interest at heart.
We look after the dogs we collect as if they are our own and make we create a safe, happy and healthy environment for your dog.
We will consider all breeds and age  of dog and will do our utmost to accommodate you and your dogs needs.
We can arrange solo walks if your dog isn't comfortable with other dogs, however, as we are all experienced dog handlers and trainers we have a really good record of getting dogs to learn to mix and play with and around other dogs.
All of the walks take place in a safe natural open place for dogs  the locations vary on a regular basis to make sure the dogs enjoy visiting new locations.
They all get treated to a good run either on a long line or off lead ( depending on customers preference ).
We supply toys and treats we also wipe their paws and give them a rub down if necessary before returning them happy and content.
All of the dogs we walk are collected in our customised vans which have been specially lined to enable ease of cleaning and disinfecting after use and have individual travel cages with escape hatches  these cages can safely transport all sizes os dog from the largest  Irish Woolf hound to the smallest chihuahua. We can carry a ramp to enable less robust dogs to use the vans.
The vans have electric fans and air scoop or are fully air conditioning to make sure the dogs are comfortable whilst traveling.
Area as we currently cover are:-
Thurrock
Upminster
Brentwood
All prices are on application as walks can be tailored to suit individual requirements location and duration of the walk. We don't charge extra for weekend or bank holidays (including Christmas and New Year).
There is no need to sign up for a regular contract. We can cover days out, shift work or just be there just when you need us.
With your permission we will post pictures of your dog on our Facebook page while they are out having fun with us.
All of our dog walkers are police checked, insured and canine first aid qualified. We also carry a canine first aid kit
Please contact Nikki on 07889 646586 or nikki@turnernpooch.co.uk