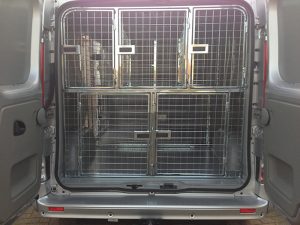 Turner and Pooch Pet taxi is available for us to transport your pet safely to wherever you need it to be.
Pet taxi has been used to take Pets from kennels/cattery when families move to new homes; we take pets to the vets; we collect for grooming appointments; we can pick up if ever you have the need and drop off to wherever you need them to be.
We have four fully customised vans which have been especially lined to enable ease of cleaning and disinfecting after use and have individual travel cages with escape hatches  these cages can safely transport all sizes of dog from the largest  Irish Woolf hound  to the smallest Chihuahua. We can carry a ramp to enable less robust dogs to use the vans.
We have carried cats, dogs, hamsters, Guinea Pigs and rabbits we even moved a tropical fish tank.
The vans have electric fans and air scoop or are fully air conditioning to make sure the pets are comfortable whilst traveling.
All jobs are individually priced, please contact for a quotation.